By H.F. Ito
This is my story of using Taimyo Kata for world peace and healing over the past 20 years. It is a story about friendships and collaborations, world events, timely encounters and a personal calling to contribute to peacemaking and healing. I see my life as a tapestry of relationships and this is one part of that tapestry.
As you read along you can follow this story via the graphic history above, created by Tomi Nagai-Rothe.
Pre-History
In the early 1980s John Kent and James Cumming were leading business English trainings as well as cultural training for German and Swedish businessmen going to Japan. I led a Shintaido workshop for their clients. Later, John would lead kenko taiso in the mornings when he and Jim were teaching.
As their work expanded more into intercultural training, they hired me to offer intercultural workshops for their clients. This was the start of ITO Services (Intercultural Training and Orientation) which was my first adaptation of Shintaido to non-martial arts audiences.
Shoko Practice at a Distance
In 1996, Debbie Evans, a UK Shintaido instructor in Bristol, and her Shintaido friend living in London were feeling challenged by their shoko practice. Debbie suggested they practice at the same time to support one another. So at the appointed time, Debbie practiced shoko facing east (toward London) and her friend practiced facing west (toward Bristol).
In keiko we do shoko practice with partners facing one another. It allows us to do it much longer than we could alone. When Aoki-sensei practices toate he sends his awareness some distance to connect to another person because our imaginations can extend beyond time and space. Debbie put all of this into practice.
Stress Management Workshops and Distant Healing
As the executive director of Hospice by the Bay, a non-profit hospice service provider, Connie Borden asked me to design a stress management course for hospice caregivers. Families, friends and other caregivers of the dying experience stress and Connie felt they would benefit from a workshop aimed at their needs. I was happy to do it, but Connie had no budget for such a course.
At the same time, my friend Henry Kaiser was serving as a family board member with the Henry J. Kaiser Family Foundation. He had had the idea of supporting my teaching for several years. Because Henry could not contribute to me as an individual, he proposed supporting my teaching for 7 or 8 years through a non-profit that would organize workshops which I would lead. I put Connie and Henry together and voila! This was my second major adaptation of Shintaido for a non-martial arts audience. This time it was specifically designed for wellness and healing.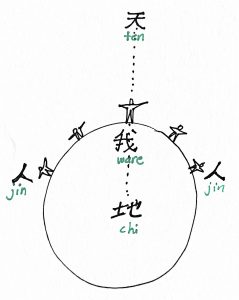 I created some conceptual charts to explain the concept of distant healing that could be used for Yokikei or Kaihokei keiko. I visited groups in Europe and the U.S. and recommended distant healing through keiko to help others with health issues, depression, etc.
I started teaching at L'Attitude in Quebec and at the Japanese Arts Seminar at Green Gulch Zen Center in Muir Beach, California and used the charts to describe Shintaido and particularly stress management.
Peace and Healing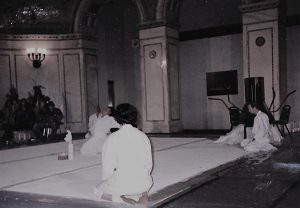 Mario and Liz Uribe, founders of the Japanese Arts Seminar, were impressed with this approach and invited me to participate in their peace work. In 1993 I participated in the Parliament of World Religions at Mario and Liz's invitation.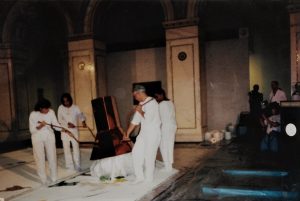 Mario took the brush-painted circle practiced by Kaz Tanahashi and made it a group activity to set the tone for peace among world religions. He created a huge brush that four people could use to paint a large circle (Enso). They asked me to ritually purify the canvas with Shintaido movement before the circle was painted.
You can read more about the Parliament experience here on page 2 of Body Dialogue.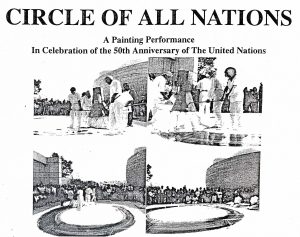 In 1995 we organized another Enso painting ceremony in San Francisco's Civic Center Plaza for the United Nations 50th Anniversary in San Francisco (Resource: Body Dialogue United Nations 50th – Will the Circle be Unbroken?)
The purification ritual for the brush circle is similar to what Kazu Yanagi (artist, painter) does by painting with water to purify a canvas. The house purifications I perform for healing and prosperity are the same: they clear away barriers and stuck ki energy.
Purification Rituals and End of Life Rituals
I was able to be with Bill Peterson, a Shintaido practitioner in San Francisco, at the end of his life. Sitting by his bed, I sensed that even though he struggled to breathe and be in his body, he was ready to go. As I held him, I asked him to do a meditation with me. We imagined ourselves doing Tenshingoso Dai and finally, Eiko Dai. I encouraged Bill to run and to let go. (Resource: Body Dialogue Facing Death, Part II)
Like the purification ritual, this was about clearing a path forward. In this life this process creates an open space for peace and healing, and for those leaving this life, it creates a path to peace.
The Development of Taimyo Kata
Master Aoki developed Taimyo Kata in 1995 and shared it at the 1996 Shintaido International in Sonoma County, California. Taimyo became a form to focus much of what came before: distant healing, stress management, spreading peace and purification.
Over decades of practice, I have come to see Taimyo as a microcosm of all of Shintaido – a gallery or collage of Shintaido movement. Taimyo is like a fractal. One part of it reflects the whole. In one sense, I feel like its parts express my own life.
Taimyo and Global Peace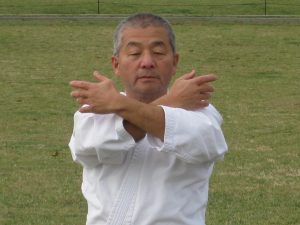 I was scuba diving at Point Lobos in California on the morning of Tuesday, September 11, 2001 and learned about the attacks on the World Trade Center and the Pentagon (U.S. Department of Defense) after emerging from the ocean.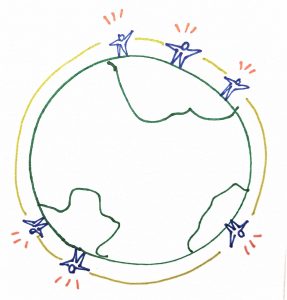 That week I was working with Rob Gaston and Tomi Nagai-Rothe to finalize plans for a weeklong meditation workshop starting Sunday, September 23 in the Bay Area. We had 17 people participating in person and 12 people participating virtually from different parts of the U.S. and other countries.
It was an ambitious format and the attacks upended our plans. How could we use our practice to make sense of what had happened? Could we do something positive through the workshop? We brainstormed many ideas: meditation as healing, creating stronger connections at a distance, managing our fears and pain. Then we came up with the image of practitioners standing at various places on the globe and, through their Taimyo practice, extending an enormous web of caring and peace around the earth. This was the genesis of the International Taimyo Network for Peace.
Developing and Expanding Taimyo Kata
Masashi Minagawa began to perform and teach Taimyo at conferences and music performances in Ireland and the UK. I expanded my teaching of Taimyo with a more global perspective on our practice and the need for peacemaking.
In 2006 we began an ongoing workshop series at the Day Street Dojo in San Francisco, thanks to Connie Borden. I built on the material covered in the Caregiver Workshops (1994 – 2003) incorporated Tai Chi from my study with Master Ma and connected the practice to personal peace-making (resolving conflicts within ourselves), healing (including distant healing) and peace – the impact we have on those around us and where we are called to create positive social change.
9/11 focused our Taimyo practice and connected it to our hopes for peace.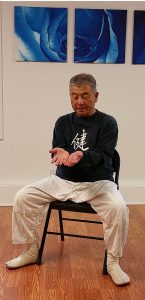 Peacemaking Work
(Resource: Body Dialogue: Shintaido and Non-Violent Resistance)
My friend and colleague Kaz Tanahashi – artist, teacher, peacemaker and Buddhist practitioner – invited me and Masashi Minagawa to join him for an apology pilgrimage to Nanjing, China in 2007. Kaz had arranged to participate in the Nanjing University international conference on the 70th anniversary of the Nanjing Massacre.
We felt for some time that it was important to make a formal apology as individual citizens since Japan had not done so. Still, we were anxious about going to Nanjing — concerned about an angry response from the Chinese.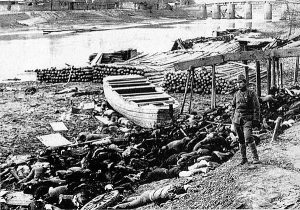 The conference participants included those who have studied and experienced genocide in many parts of the world. There was press coverage of the conference and our apology ceremony. People in Nanjing seemed glad that we had come.
Masashi Minagawa and I went down to the edge of the river for our own meditation and form of apology. After some time I had a profound sense that the souls of those who had been massacred were present, and that they were not only forgiving but loving. I will never forget that experience.
That same year I organized a Meditation Workshop on Omaha Beach in France to lift up peacemaking — rather than the glorification of war that often happens there.
In 2009 and 2010 Elli Nagai-Rothe helped organize a Peacemaking Workshop at American University in Washington DC for graduate students in the International Peace and Conflict Resolution Program and others interested in practical peacemaking. Taimyo and Shintaido provided a powerful and practical antidote to the intellectual work of graduate studies.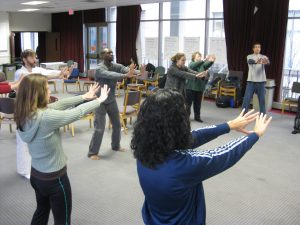 A Taimyo and Life Exercise Curriculum
With the help of Lee Seaman and Tomi Nagai-Rothe I created a curriculum and teaching program so that I could involve others in sharing this work. I began certifying my students in the U.S., France, Japan and Quebec. There are now 19 people coaches and instructors around the world.
(Resources: Taimyo/Life Exercise website in English, Taimyo Network website in French, Taimyo blog in French, Taimyo Network website in Japanese)
My students in the South of France have held an annual Taimyo Workshop since 2010. They invited me to teach for many years, and now four students have taken over and established the Institut des Nuages Flottants and lead Taimyo Workshops four times a year.
Diamond Eight Cut
In 2016 Masashi Minagawa was inspired to create the Diamond Eight Cut – an improvisation on Shintaido movement that brings to fruition 50 years of Shintaido practice, teaching and research and development. It combines Tenshingoso and Eiko as well as Kiri-Oroshi kumite in an elegant and accessible form that can be used for celebration or purification, energetic healing, and connecting our inner world with the Universe.
Diamond Eight is a perfect fit for movement inspired by Taimyo Kata. I have taught it and found innumerable ways to creatively adapt it to my students' needs over the past three years. Its combination of centering, clearing, opening and healing makes Diamond Eight a fractal of Shintaido.
It miraculously helps us express and experience everything from Mother Nature and the deep Universe to the cells in our body and everything in-between. When I practice Diamond Eight it feels like my body is its own cosmos and, simultaneously, as if tiny versions of my cellular self are also practicing Diamond Eight.
After practicing the Diamond Eight, I understand meditation in a deeper way — in a way that monks probably understood intellectually, though not somatically. It is an amazing gift.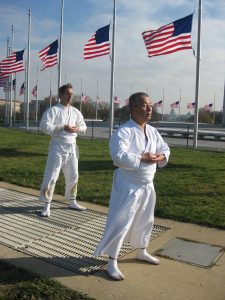 Diamond Eight marks a new era for Shintaido and Taimyo that I trust will carry us for many many years to come.
(Resource: Diamond Eight Cut & Life Reflections article – downloadable PDF)
Thanks to Tomi Nagai-Rothe and Lee Seaman for their assistance in helping me tell this story.