Interview by Sarah Baker – January 2020
What is Shintaido Kenjutsu? Shintaido means "New Body Way," or we could also call it a new art movement of life expression. When people hear Shintaido, the syllable at the end is Do, which is usually used for martial arts. But Shintaido is more than a martial art. It is a movement for the development of human potential.
What is the difference between Kendo and Kenjutsu (Judo and Jujutsu)? Kenjutsu means sword-fighting techniques. So Shintaido Kenjutsu presents your life expression through sword techniques. During the samurai period in Japan, no one used the word kendo (or judo, for that matter). The terms were kenjutsu and jujutsu, and they referred to fighting techniques. The words kendo and judo came into use as Japan began to modernize, after the Meiji Restoration around 1865. That marked the end of the samurai fighting lifestyle. People were no longer allowed to take matters like law and order, and revenge into their own hands; those things were now handled by the police and the courts. Sword techniques and other martial arts were still practiced, but more as a form of sports or physical training, and done in spaces akin to a gymnasium. That's when the terms kendo and judo came into popular use.
Kendo literally means "the way of the sword," and Judo literally means "the way of flexibility." Although those words sound great, and the practice is supposed to lead to enlightenment, that kind of keiko can actually become hollow and inflexible when it is removed from the demands of the battlefield. At its core, Shintaido is designed to help us experience life-and-death interactions without actually having to kill each other.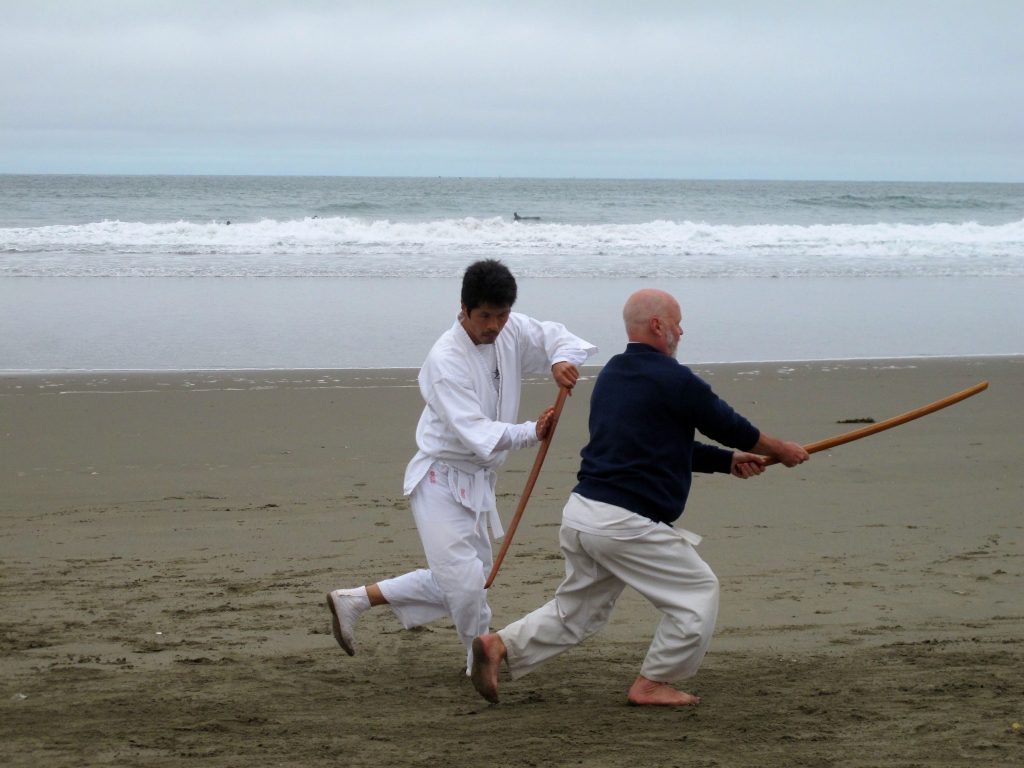 What is the difference between Karate and Kenjutsu from your cultural point of view? Karate came from Okinawa and as a result there was a great deal of influence from Chinese martial arts because Okinawa was occupied by China and Japan and various times in history. Kenjutsu is totally Japanese, and is affected by what we call the "island culture" of Japan, meaning that it was relatively isolated and not much influenced by other martial art forms. In addition, Kenjutsu has close ties to Zen, which is the form of Buddhism that was followed by many Japanese samurai.
Karate characteristically has kata, practiced individually, kihon, practiced in unison with a group, and kumite, practiced with a partner. Traditionally in Kenjutsu, both Kihon & Kata werepracticed individually, not in unison.
Because Karate has group exercises, Master Aoki was able to develop Goreijutsu, techniques for giving gorei. This is one of the strong points of Karate, from its Chinese influence.
Karate is a horizontal relationship: it's very practical. The instructors are not responsible for their students' spiritual development. Kenjutsu has a big vertical component – mind-body-spirit – and the instructor works to develop all of those in his or her students.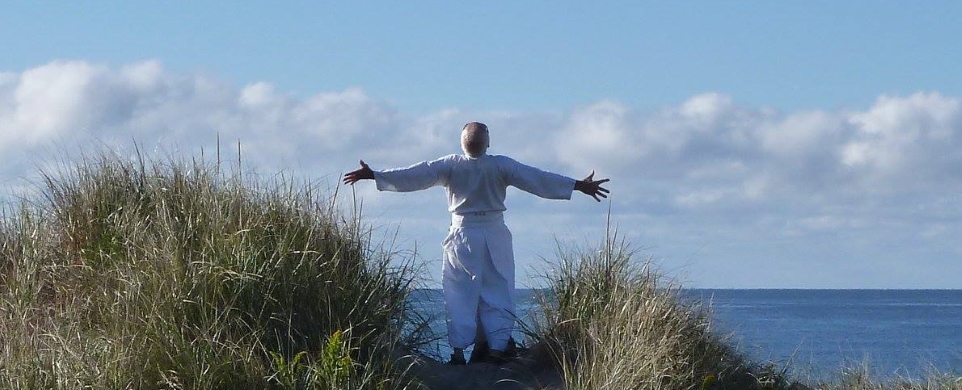 Where does Kyu-Ka-Jo Kumitachi come from? In Shintaido: A New Art of Movement and Life Expression (1982), Master Aoki said that Kyu-Ka-Jo Kumitachi came from Master Inoue Hoken, who was the founder of Shinwa Taido. I heard a rumor that Master Inoue was in the line of Itto Ryu Kenjutsu, and Master Ueshiba was in the line of Shinkage Ryu Kenjutsu. I believe that Kyu-Ka-Jo Kumitachi came from the Itto Ryu tradition. That means Shintaido practitioners are so fortunate, because we have access through our keiko to the traditional Itto Ryu practice.
What is Jissen Kumitachi? The original concept of Jissen Kumitachi came from a project team consisting of Master Okada, Master Minagawa, and me. Kyu-Ka-Jo Kumitachi is a great vehicle for spiritual development and mind- body harmony, but it isn't necessarily very practical in terms of working sword technique. By that time, I had studied Shin Kendo from Master Obata in Los Angeles, and because of his Aikido background, he had a lot of Shinkage Ryu influence. So the three of us were able to benefit from the strong points of Shinkage Ryu in our work with Jissen Kumitachi. The word jissen can be written two different ways in Japanese: 実戦 and 実践. The pronunciation is the same, but the first one means "for practical fighting" and the second one means "for practical living." We were able to incorporate the mixed wisdom of both Shinkage Ryu and Itto Ryu into Jissen Kumitachi.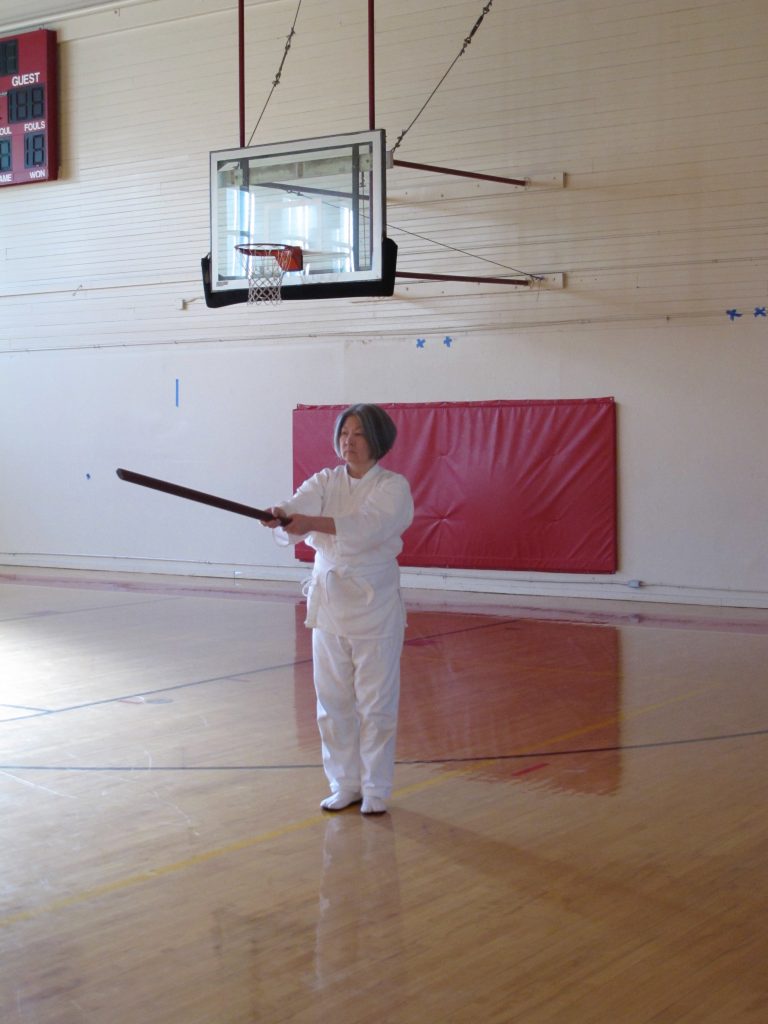 What is the difference between Bokuto and Bokken? In the regular martial arts world, bokuto 木刀 and bokken 木剣 are the same. Both mean "wooden sword." But in Shintaido, we make a distinction: the bokuto is a straight wooden sword and the bokken is curved. We recommend that you use a bokuto when you practice Kyu-Ka-Jo Kumitachi, and that you use a bokken for Jissen Kumitachi.
More specifically, the original, formal bokuto practice was designed by Master Aoki. He believes that the bokuto form can naturally help practitioners experience Ten-Chi-Jin vertical energy when doing Tenso. Shintaido Kenjutsu (e.g. Kyu-Ka-Jo Kumitachi) is meant to be practiced with a bokuto (straight wooden sword).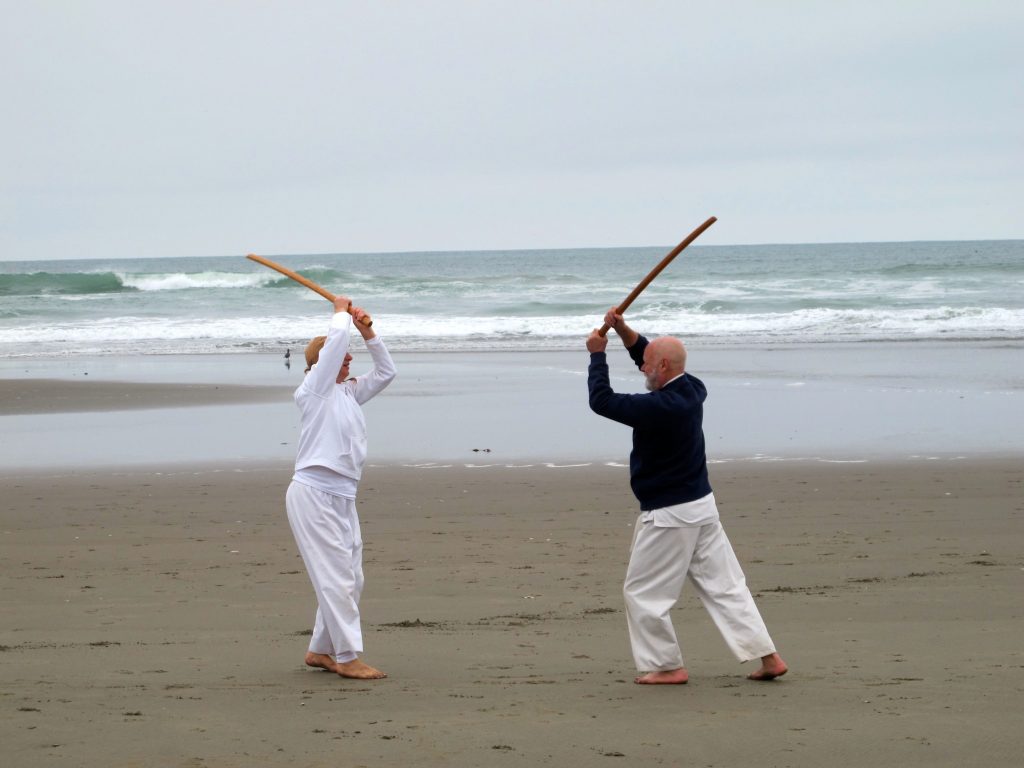 Shintaido Kenjutsu (e.g. Jissen Kumitachi) is meant to be practiced with bokken (curved wooden sword). And in both cases, it is very important to study and experience the techniques and philosophy of Tenso and Shoko when you are a Shintaido beginner.
What is the difference between Kirikomi and Kiriharai
See Hiroyuki Aoki, Shintaido: A New Art of Movement and Life Expression (1982) – , pages 46-47 and 70-73.
2 Shintaido Kenjutsu Q&A with Master H.F. Ito
What is Toitsu Kihon? See Hiroyuki Aoki, Shintaido: A New Art of Movement and Life Expression (1982) – pages 88-99.
What is the relationship between Master Egami, Master Inoue, Master Funakoshi, Master Aoki? See Tomi Nagai-Rothe's scroll of our inheritance from three masters, created in the 1990s.
What is your overview of Shintaido history as a stream of consciousness? Shotokai Karate ~ Egami-Karate ~ Rakutenkai-Karate ~ Discovery of Kaisho-Ken ~ Shintaido (Toitsu-kihon) ~ Discovery of Tenshingoso & Eiko ~ Sogo-Budo ~ Shintaido-Bojutsu/Karate ~ Yoki-Kei Shintaido ~ Shintaido as a human potential movement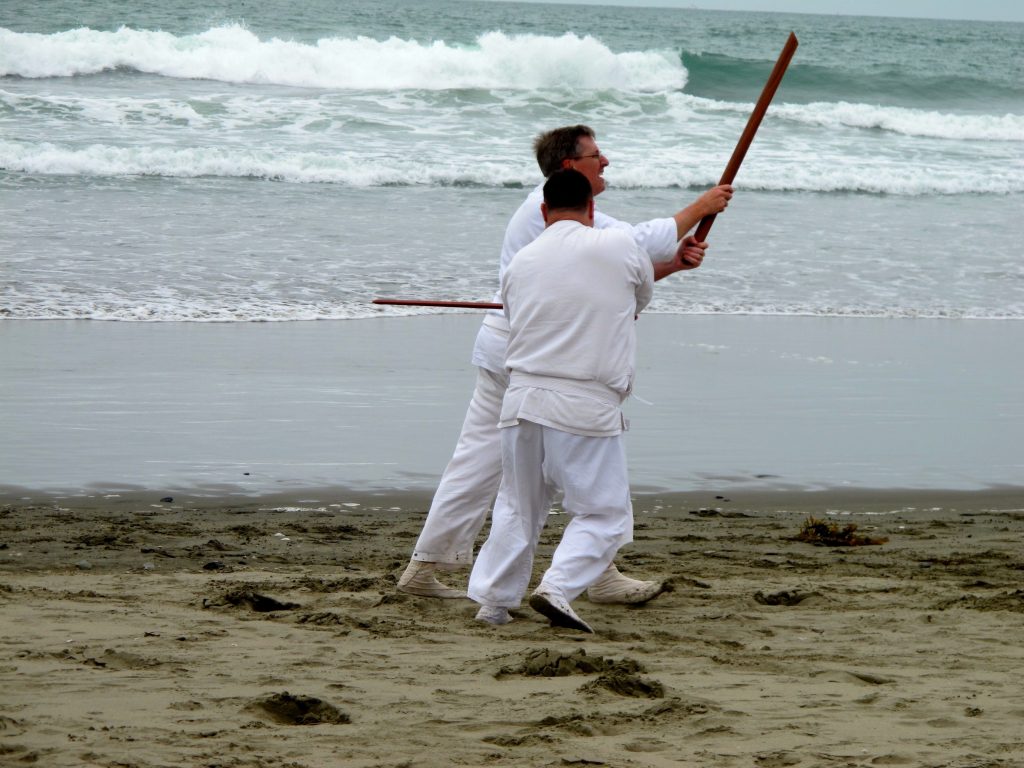 What is Shintaido Kenjutsu for you? My life work, the conclusion of my life time training of Shintaido, a crystal/reflection of Kaiho-Kei Shintaido, Yoki-Kei Shintaido, Shintaido Bojutsu, and Shintaido Karate.
What is your recommendation to those who want to start studying Shintaido Kenjutsu? If you are a beginner, you should study Shintaido Daikihon first: specifically, Tenshingoso, Eiko, and Hikari/Wakame (Stage 1). After that, Toitsu Kumite using kaishoken (Stage 2). Then you can start Kyukajo Kumitachi (Stage 3), and after that Jissen Kumitachi (Stage 4).
If you already have experience with another martial art, especially related to Kenjutsu, you can jump in at Jissen Kumitachi (Stage 4), and if you like it, you can then study Kyukajo Kumitachi, too. And if you really want to understand the discipline in depth, you'll end up studying the Daikihon (Stages 1 and 2), too.
Appendix 
Have you studied any other martial art besides Shintaido ?
I've never joined or belonged to any other martial arts dojo, but I did six months of training at the Aikido Headquarters in Japan in 1970. That was just after Master Aoki had completed the Daikihon, and right after Master Ueshiba had passed away. Master Aoki was ready to come out of the "Egami World," and he sent me to the Aikido Headquarters to see how practical what he had taught me really was, and to see what Master Ueshiba's legacy was − his secret key points. (In Japanese, we say, "Find out what is written on his tombstone"). Master Aoki didn't tell me how long I would be there, so I assumed it might be for a year or more. Every night I would come home, and he'd ask me what I had studied. I got more and more interested in Aikido, and I was surrounded by people who had studied with Master Ueshiba, even though I had never met him myself. But, I was really flexible because of all my hard keiko at that time, so their joint locks didn't work on me (I didn't tell them, of course, I was respectful), and my tsuki was really strong, so I knew I could hit them any time (but I didn't do it of course, I was respectful). I was working with an older man, not an instructor, and I was attacking him gently, but once I attacked him strongly without warning, and suddenly I ended up on the floor! After that, I became much more respectful toward Aikido. When I told Master Aoki that story he said, "Okay, you don't need to go there anymore." I think Master Aoki was collecting Aikido techniques through me, but he probably recognized that I had been getting rather proud of myself, so he likely sent me to the Aikido dojo to learn some humility, and respect toward other martial arts. 
Soon after I was appointed as Doshu (Master Instructor) in 1988 in Tanzawa, Japan. Master Aoki said that since I was a Master Instructor, I needed to go and study Tameshigiri (actual cutting techniques) from Master Toshishiro Obata. He had been the Tameshigiri champion in Japan for five years before he moved to Los Angeles around 1985. 
Master Obata was still new to the US when I first met him in 1989. He was one of the top disciples of Gozo Shioda who was 10th Dan in Aikido. (I think he studied directly from Master Ueshiba.) He was the founder of Yoshinkan Aikido a school of Aikido that is famous for being extremely practical and very difficult.  
Starting in 1989, I studied with Master Obata three or four times a year, about a week at a time, for three years. I thought I was there to learn test cutting, but I ended up also practicing Yoshinkan Aikido and Kenjutsu. At that point he called his style Toyama-Ryu Battojutsu, which was the kind of training that was taught to Japanese Army officers during wartime. Very practical – scary practical, actually ! In Los Angeles, Master Obata had a small Aikido dojo, but his teaching was so demanding that he was not very successful with his dojo. When I first started to study with him, he didn't speak English very well, and was very frustrated with his American students. He complained, "They have no guts, no manners, and no concentration !" Of course, I know how to study from Japanese masters, so he shared a lot with me. It was like a brain dump – all of his frustration, but all of his technical skills in Aikido and Kenjutsu, too. He taught me a lot, but he was very tough on me – I would be black and blue all over after working with him for a week. He would whack me with his practice stick whenever I left an opening. We were practicing kata, and from his perspective he wasn't hitting me – he was teaching me. But he couldn't treat his American students like that because they would sue him. And Master Aoki had introduced me to him as a 20-year practitioner and his best student. So, he was very generous, but also very challenging. And, of course, this wasn't kendo with a lot of armor – we didn't have any kind of protection. I guess I had become proud again ! So, this was a good lesson, too.

Interview by Sarah Baker. Sarah was born in the Bahamas (1965) to American parents. She returned to Rhode Island in 1966 and moved to Massachusetts in 1969. She has been a caregiver and Touch Pro Certified Practitioner since 2003. She holds Aikido 2-dan examined by Don Cardoza (Aikido 5-dan) founder and head instructor of the Wellness Resource Center, North Dartmouth, MA. in 2011. She holds Shintaido Kenjutsu 1-dan examined by H. F. Ito at the Doshokai Workshop, September 2019. Presently she resides in Sarasota, Florida. She acts as the project manager, Shintaido of Americavideo documentation archive project