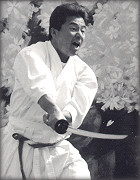 INDEPENDENT, 5th DAN SHINTAIDO KARATE AND BOJUTSU
MASTER INSTRUCTOR
SEMI-NOMADIC
FOR CONTACT, SEE: WWW.ITO.SHINTAIDO.ORG

Born in Hiroshima, Japan, in 1942, H.F.Ito graduated from Chuo University in Tokyo where he received a degree in jurisprudence. At age 22 he received a 5th degree black belt from Master Shigeru Egami, head instructor of the Shotokai School of Karate-do. As one of the original students of Hiroyuki Aoki, he participated in the creation of Shintaido.
He additionally studied Amma/Shiatsu and Meditation from these two masters as part of his traditional martial arts training and has been a practitioner since 1964.
In 1975, he moved to San Francisco and founded Shintaido of America. He became it's head instructor. Since 1981, he has introduced Shintaido and led workshops in Japan, United States, Canada, Mexico, Great Britain, France, Germany, Sweden, Finland, Belgium, Switzerland, Italy and Australia. In addition to teaching martial arts, he has lectured on the history and philosophy of Japan and on intercultural communications between the East & the West.
In 1995, he designed a stress reduction program for the Hospice by the Bay in San Francisco and started leading Shintaido Meditation workshops for the hospice caregivers. These workshops are intended to help the caregivers recover from the death of their clients. In 1997, he was invited to the National Hospice Conference in Atlanta, Georgia, at which he presented a Shintaido meditation process for the caregivers to use in their work.
He is currently a founding faculty member of the American School of Japanese Arts in Santa Rosa, a consultant and trainer at Amma Institute, the Touch Pro Institute, and Hospice by the Bay in San Francisco, and L'Attitude in Quebec.