by Connie Borden
I was extremely fortunate to teach Shintaido exercises during the week-long calligraphy course presented by Zenbrush at the Mercy Center in Burlingame, CA from March 8th through March 12th. Fifteen people, along with Sensei Kaz Tanahashi participated in late afternoon Shintaido exercises to relax and rejuvenate after their daily classes.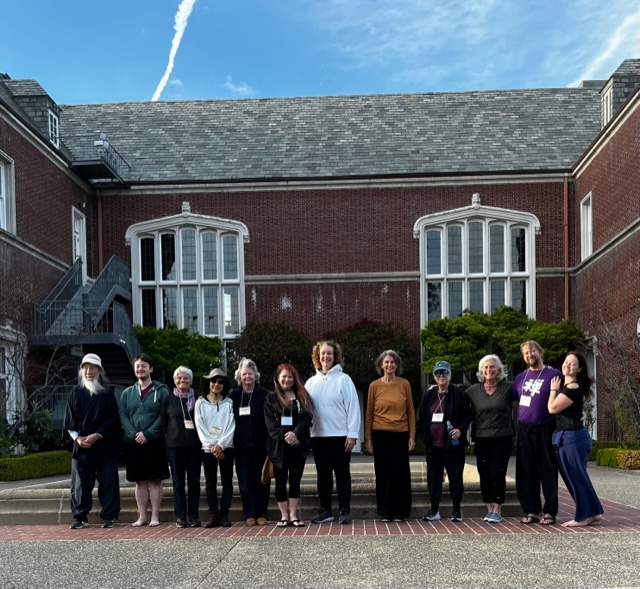 Kazuaki Tanahashi, born in Japan in 1933 and active in the United States since 1977, is an artist, writer and peace and environmental worker. As a painter and calligrapher, he has been pioneering the genre of one-stroke painting. He has produced over forty books in English and Japanese. As a peace activist he has worked against nuclear arms race and is the founding director of A World Without Armies. At age thirteen, he studied in at an underground, post world-war II class of martial arts. The teacher was Morihei Ueshiba, the founder of Aikido (read more at brushmind.net).

A long-term friendship between Sensei's Ito and Tanahashi paved the way for me to be asked to teach on this occasion. Here is a photo from 2003 when Shintaido and Brushwork collaborated during a weekend workshop. In 2000, Mike Sheets and I joined the Sensei's and friends for a trip to Bristlecone pines.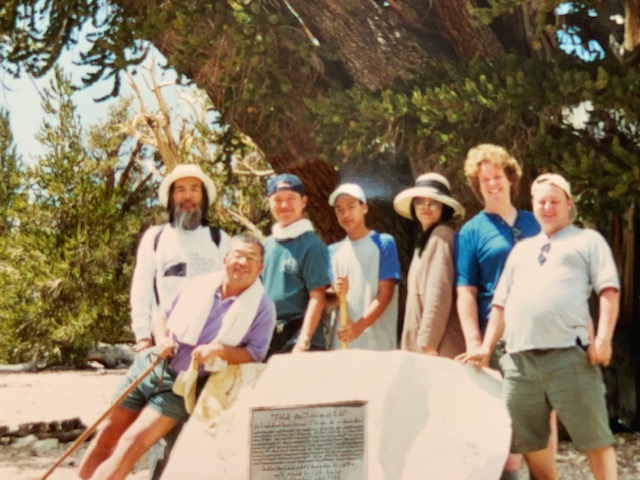 The spring 1996 issue of Body Dialogue describes a collaboration in June 1995 when Shintaido and the American School of Japanese Arts celebrated the 50th anniversary of the UN at the SF Civic Center Plaza. The world's largest brush-drawn circle was created by Tanahashi Sensei while Ito Sensei and a number of students performed Shintaido movements (shintaido.org).
The Mercy Center is forty wooded acres in Burlingame CA near the SF Airport. After each day of calligraphy classes, I taught kenko taiso to focus on joint articulation, especially focusing on the shoulder, elbows, wrists, and hands. Using the idea of the calligraphy brush (and inspired by teaching from artist/Shintaido teacher Charles Burns), I taught Azoro Taiso to 'paint the sky.' Gradually the class grew more confident to add their voices to this movement. To close, we did Taimyo Part III, allowing ourselves to connect with each other, nature, and the universe. The retreat center's beauty of nature supported so everyone connected more deeply. My hope was for everyone to find themselves rejuvenated and more creative.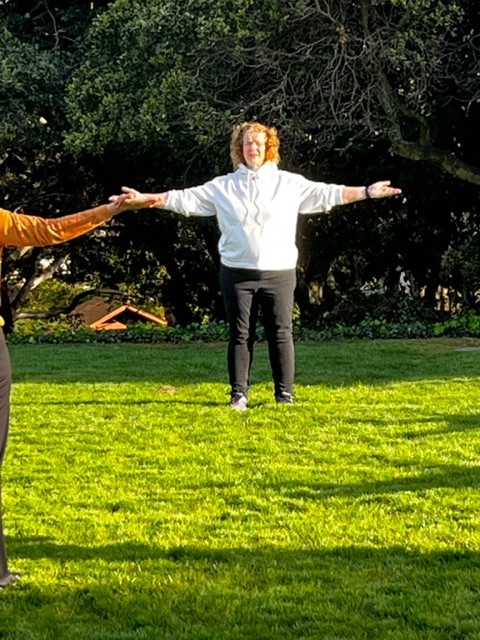 What are some steps to effective collaboration?

First: what organizations do you know that might want to include Shintaido exercises? As a starting place, working with people you know can be easier to build connections. For example, at a senior center or senior living community where you have family members. Lee Ordeman is an example of this in Maryland. Or a spiritual group that you attend, such as Lee Seaman does with her church in Washington State.

Perhaps you are able to include Shintaido into school or college curriculum. Gianni Rossi does this in Italy and is now working with the music teacher to add Shintaido exercises. One advantage to collaboration is you will have an organization who are finding people to attend. With a good match, there are common purposes and interest, so the participants are more likely to be excited and curious about Shintaido.

Second: is there a good match of needs? Is the need for exercise for relaxation and to reduce anxiety? Or for joint health? Or is the need to help prevent falls? Is the need for community connection and fostering overall health? Or is the need to provide a club within an organization?

The range can be from a specific need for a set of exercises to providing ongoing classes. Some places are the Boys and Girls clubs, the YMCA, community colleges, and senior centers. Shintaido was taught at Harvard during the times Michael Thompson and David Franklin were teaching. Nancy Billias currently does this through her teaching of ethics and philosophy.

Third, keep expectations modest. Some people might be interested in ongoing study and others might not. Some may share the name of Shintaido to others.

I appreciate the opportunity to collaborate and hope that others find ways to share Shintaido within their communities.