by Jim Sterling
On February 5, 2021, Shintaido of America (SOA) held a celebration via Zoom to honor Michael Thompson, Doshu, with a Lifetime Achievement Award. During this event over 40 of his students and colleagues spoke about the impact he had on their lives through Shintaido.
Michael Thompson was born in 1938. He received a B.A. from Hamilton College in 1960, an M.A. from Middlebury College in 1963, and a Ph.D. from the State University of New York, Buffalo in 1969, specializing in French literature.
He taught high school French (and German!) for three years before becoming Assistant Professor of French at Hobart College from 1969-71.
While in France in the fall of 1971, he began his study of Shintaido with Marc Bassis, a student of Aoki-sensei and Egami-sensei. He first met Aoki-sensei in France and then, a year later, went to Japan to study with him and the Rakutenkai group.
After two years in France, he returned to the U.S. and started to teach Shintaido at Hobart College where he stayed for two years.
In 1975, he joined with H.F Ito in San Francisco where they established the first national Shintaido organization, then known as Rakuntenkai-Shintaido of California in 1976.
Michael Thompson published his book "Untying Knots: A Shintaido Chronicle in 1996. He became the first non-Japanese Doshu in 2004.
As Michael approaches his 85th year, he has been honored with this Lifetime Achievement Award and in season two of the podcast David Franklin is reading from his autobiography "Untying Knots: A Shintaido Chronicle".
You can watch the recording of this special event on our YouTube
There were many people who spoke during the celebration. We have captured some comments for you to read. Enjoy!
Master Instructor – H.F. Ito Sensei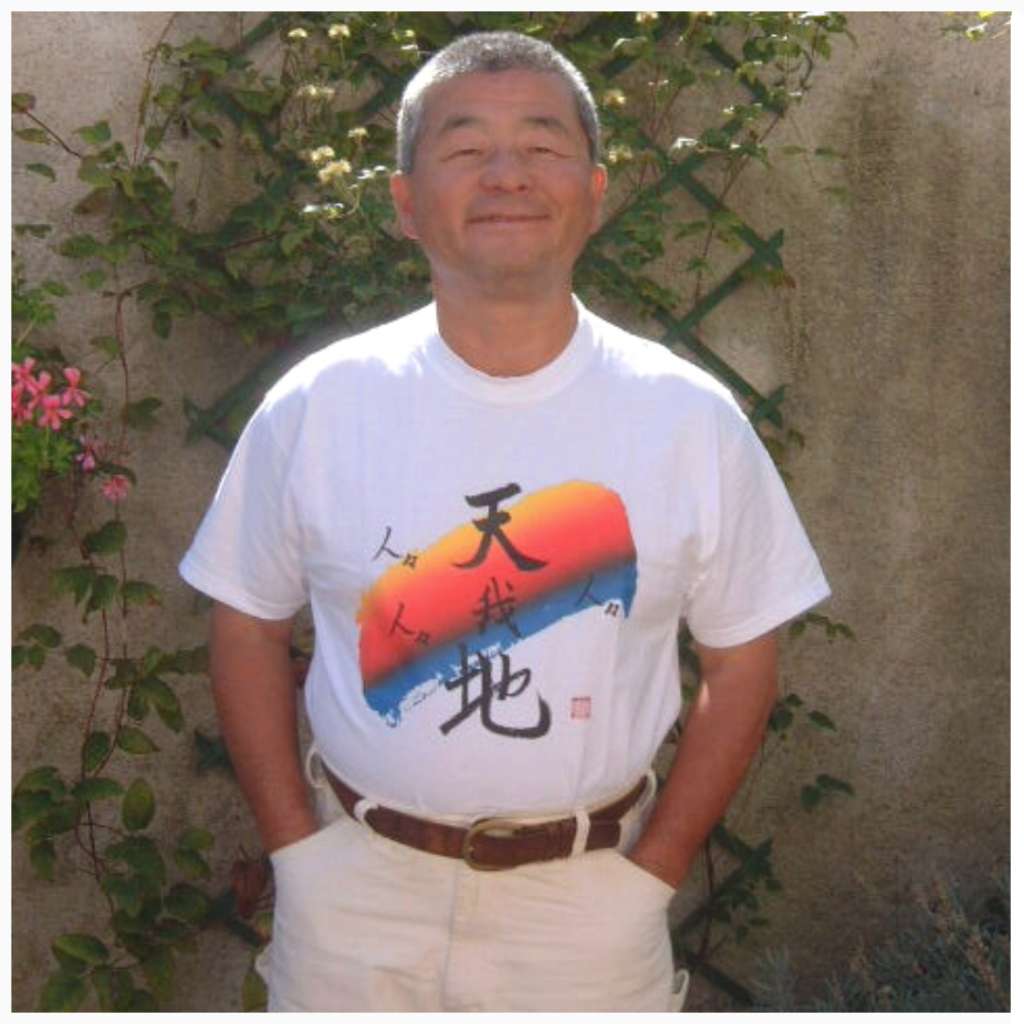 I have many memories, but I particularly remember the congratulations that Aoki Sensei gave me at the Shintaido America Tenth Anniversary Event, "Shintaido Ten" Gasshuku in 1986.
Aoki sensei said:
Shintaido America has come to be what it is today, firstly, because of Ito Fugaku's "ability to carry out objectives," which he has cultivated through his karate training, and secondly, because of Michael Thompson's "intelligence" and "gentleness" in supporting it!
I would like to express my deepest gratitude to Michael for his ability to digest my numerous unrestrained suggestions and gradually transform them into something more tangible and concrete to develop Shintaido America.
Thank you so much, Michael!

Master Instructor Masashi Minagawa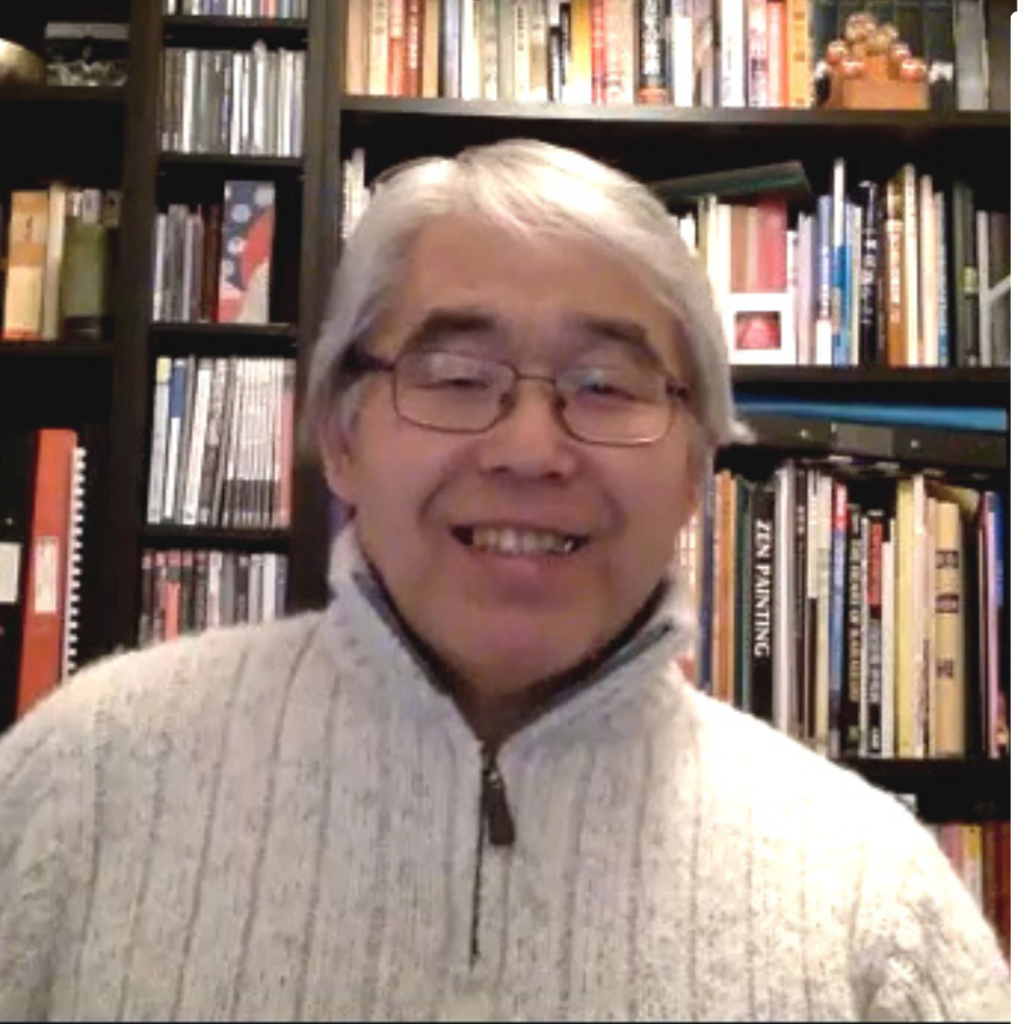 I heartily congratulate you, Michael, on your Lifetime Achievement Award today.

I'd like to share three episodes with Michael.
In the days of Rakuten kai, the predecessor of Shintaido, an American with an afro came along with a French instructor. Aoki Sensei took notice of this young man's intelligence rather than the French instructor and, with the help of an interpreter, enthusiastically explained the Aoki World to him. Soon he became independent from the French instructor and became a resident of Rakuten kai, where Ito Sensei and other Rakuten kai members lived.

I would like to share my memories of the three kumites with him.
1. The Shoko team & Invisible teacher
The other day in Japan, I saw Kato sensei's wife. I told her about this ceremony and that I would like to talk about an episode of Michael and Kato sensei, which she was very pleased about.

A group of young people formed a team to introduce Shintaido to the world, and a national event was held to promote it. Shoko team of three people were formed, and Michael and I were in the same group.

Each team went into a forest nearby and we did Shoko for one hour. Kato Sensei was watching over everyone's practice. When Michael thought Kato sensei's presence had disappeared, he relaxed, and then Kato sensei whispered gently into Michael's ear from behind, "Michael". In that instant, our team became relaxed and united.

Since then, Michael often came to my house with biscuits. Later, he founded the International Shintaido Federation with Ito Sensei and others, and they, along with the American Shintaido people, warmly watched over me and encouraged me when I had lost my way in Japan.

Michael is very good at guiding young people.
I was one of them, and I recently realised that he had been watching over my practice,
which I didn't really notice, invisibly.
2. International Shintaido Federation & 'San nin ichi retsu'/ Three in a Row
Michael , Ito sensei and myself demonstrated the Sannin Ichiretsu at the international event in America.

That kumite became a new starting point for me.
Instead of colliding with each other, in the open world created by Michael and Ito sensei, I was able to release unnecessary strength from my constricted body, enjoy kumite, and later I became a member of the international Shintaido movement.

This trio continues to this day.
3. Generalizing the world where heaven, earth, people, and I are one/ "Tenchi hitobito ware ittai"

The final episode is the Doshu exam in 2004, where he demonstrated Hikari with Connie.

He generalized and embodied Mr. Aoki's world of unity of heaven, earth, and people. He showed us the world of light and play, where the other party can be freed by his very existence. It remains deeply in our hearts as a message that pointed us in a new direction.

And I am convinced that it will become a guideline not only for American Shintaido, but also for us Shintaido practitioners, and will continue to shine as eternal life.

Congratulations, Michael, on your day!
General Instructor, Jim Sterling – Michael's Student for over 45 Years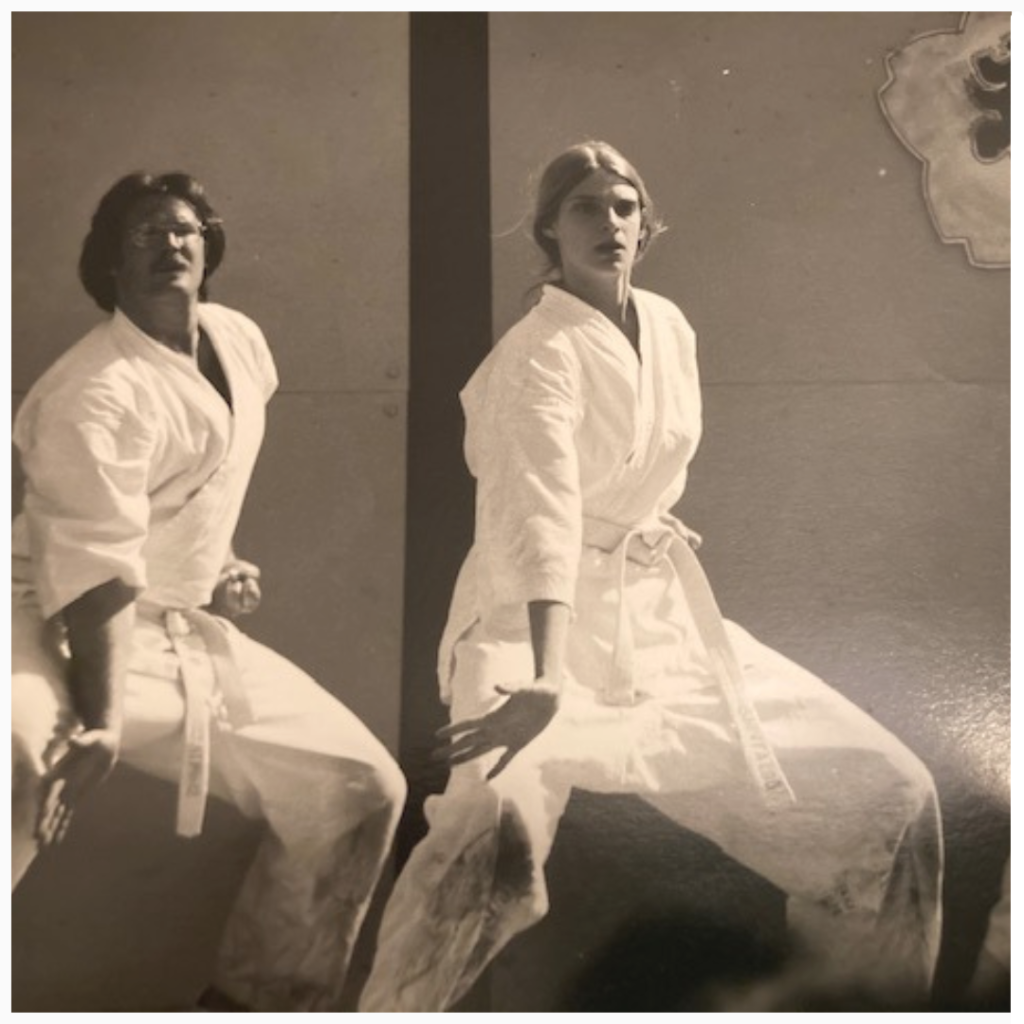 Thank you for inviting me to say a few words on this special day honoring Michael Thompson with a special achievement award.
I first met Michael at Hobart college around 1973, although it was not in the classroom but on a field where we were playing touch football. Michael had recently returned to the campus from Paris where he was introduced to Shintaido. I caught a pass in front of him and his "touch" knocked me into the ground. I was surprised that this rather skinny and quiet academic was so strong. Guess he had his koshi turned on!
After college I eventually moved to San Francisco in 1976 and started attending regular evening classes taught by Michael and Ito. I eventually found a job where I began my day in the afternoon and needed to find another time for keiko.
I had heard Michael and Ito were practicing together in the morning in Golden Gate Park and I asked if I could join them. They agreed. Every morning, I would ride my bicycle with my bo tied to the bike's cross bar. I arrived at their apartment around 8am and went upstairs to wait until they were ready. Typically, Michael was awake sitting in his living room chair drinking tea and reading the Bible. The three of us would walk slowly and quietly through the park to the baseball diamond where we did some brief warmups. Ito and Michael would practice by themselves and eventually do some kumibo. I was instructed to do two things for the entire hour of class, jump back and forth across the field and run Eiko with my bo. Sometimes, when I finished they would do kumite with me but that was rare. Those morning keikos got me hooked on Shintaido and I'm sure Ito and Michael were teaching me from a distance.
The first of two stories I'd like to share about Michael took place in the basement of a church in Japan Town. Ito had a relationship with the minister at the church so we were able to use the space for free. The Shintaido students at that time were very eager to have new people come to practice. We wanted to spread the word about this amazing body movement so any newcomers were welcomed and encouraged to join our group.
One evening, a pleasant couple showed up. They were very svelte, around thirty-five and dressed in fashionable active wear. Michael was teaching the class and they seemed intrigued by the keiko. After they left, I asked Michael whether or not he thought they would return. He immediately replied, "Nope, they weren't desperate enough." I promise I did not steal this from Burtis ! Hope it isn't a recurring theme but as Lou Reed once sang, "those were different times."
The second story took place at an International Gasshuku. I think it may have been in France or the Bay Area but my memory isn't so clear. During the last keiko, Aoki Sensei presented his latest creation called Taimyo Kata. Now, many of you are familiar with this and know it is combination of various Shintaido movements. The students were fascinated and excited about this new arrangement. After the keiko ended, I asked Michael, "Well, what do you think about Taimyo?" He smiled and replied. "Microsoft upgrade to 3.0."
I always enjoyed Michael's teaching both in and out of the dojo and really missed him when he left the Bay Area. His sense of humor and sharp wit was a necessary counterpoint to Ito, who at the time, was very serious about his mission to spread Shintaido in the States.
Finally, my deepest impression and fondest memories of Michael came from doing kiroroshi kumite with him. He was always able to cut deeply into me. Unforgettable and transformative moments. I encourage everyone who has the opportunity to ask him for this kumite. Thank you Michael !!!
Nancy Billias – Shintaido of America Board Member and Long Time Student of Michael
Michael,
I expect you will be both happy and embarrassed by this award.
Your lifetime achievement has been to bring Shintaido out of its Japanese shell. If it hadn't been for your sojourn at Hobart, there would have been no Bela Breslau as a Senior Instructor, and therefore no Stephen Billias as an Instructor, and therefore no Shintaido Farm, and very likely, no Shintaido North East. There would have been no David Franklin as a Senior Instructor, and therefore no Shintaido in the Czech Republic. No Gianni Rossi as a Senior Instructor, and therefore no Shintaido in Italy.
Quite an achievement, I'd say.
There's probably much more that I'm leaving out, but that is enough to be going on with, as they say.
As for me, I can only say that we have come a long way from the early days when I was so afraid of you! And that I will always remember your only piece of feedback for me when I took and passed my Assistant exam. You told me I needed to meditate more. You were, as so annoyingly often, right.
Thank you for everything you have been and done for all of us. Thank you for showing us a new way to be in the world.
Nicole Beauvois – From France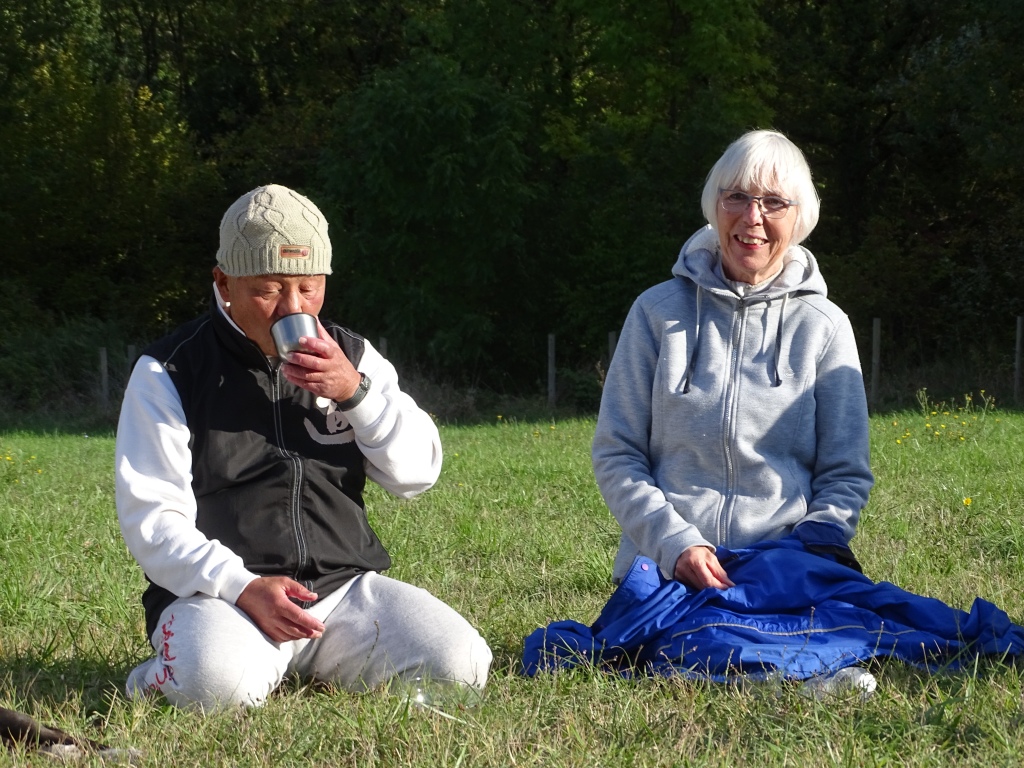 Thank you Michael !
You have once again been able to reunite so many "old timers" around you.
I want to share my impressions about one aspect of your nice character.
It was in England, maybe Wales, and I had taken the Assistant exam. I was very anxious about the results of the exam. Ito was sitting next to you at the same table and when my name was announced, you were both laughing and that made me even more nervous.
I thought Ito would give me the feed-back, but it was you who did it. I was very nervous at the beginning since I knew you were very sharp and honestly, I was afraid that you would tease me in front of everyone.

But, I still remember your nice smile (with a lot of teeth) and your kind feedback.
I was so surprised by such supportive comments since I was sure you would list all my weak points and instead, I was very moved. You suggested that I have more confidence in myself because my demonstration was very good.

I still remember this moment and this kindness, that I have seen many times, and also the accuracy of your evaluation on the practice. But, those things have already been mentioned by other people so I must be right.

Also I want to thank you for the fun translation of Aoki speeches into French, but I do not know why they were always shorter than the actual speech …..HA HA !!
And thank you for the moments around a "nice cup of tea" and cookies.

Hoping to see you again soon "Tonton Mike."
Love,
Nicole de France
Stephen Billias – Michael's Student and Neighbor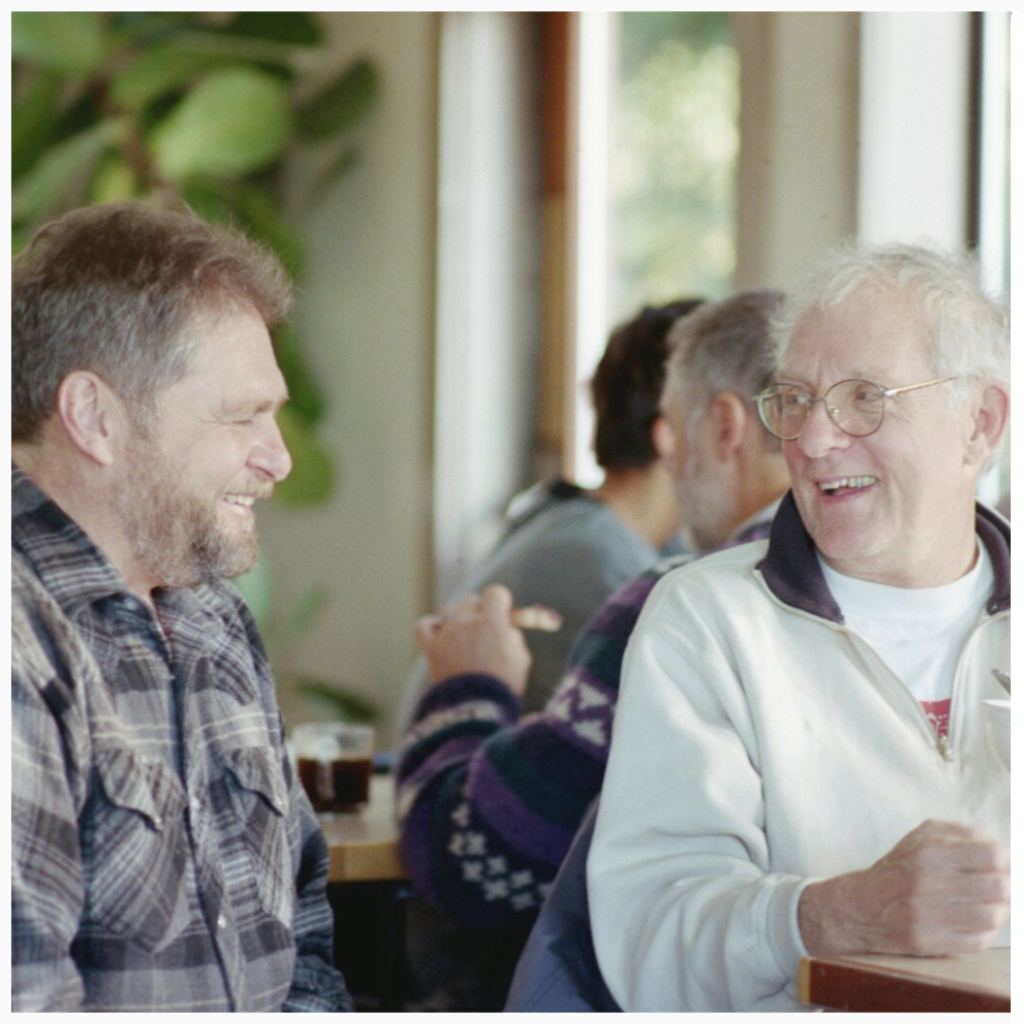 I'm grateful for the opportunity to speak about Michael Thompson Doshu. In the years since Michael moved up to Greenfield, Massachusetts to be Master Instructor in Residence at the new Shintaido Farm, I have learned so much from him! He was present at every one of the many gasshukus that Shintaido Northeast held at the Farm, either as a teacher or a thoughtful observer. For many years, we have had a strong tradition of Sunday morning informal keikos with Michael, Bela, Margaret Guay and me, with occasional visitors and guests, first at the Farm and later at the Senior Center in South Deerfield, in our back yard on Graves Street, or out by the Connecticut River in Turners Falls. Often, Michael's contribution would be a few minutes at the end of these keikos, often with a single keen insight into our practice, which we gladly pay him for in breakfasts, either at our house or the Shady Glen Café!
I have witnessed Michael-sensei's transformation into a kind and gentle wise elder. I'm proud and honored to consider him as a friend in addition to my main teacher since the inception of the Farm. Michael doesn't put on airs or act like the guru. The other day I was in our local co-op the Greenfields Market, where Michael goes every day and where he is well known by all the staff. I mentioned to Judy, one of the cashiers, that Michael was one of five Master Instructors in the world in Shintaido, and she had no idea!
Some of the people on this Zoom may not know that Michael is also a grandfather figure to our daughter Sophia. They have a wonderful relationship that includes their common interest in the latest technology, and occasional beer runs to keep Michael stocked for his nightly IPA.
I hope that I can continue my studies with Michael, and our friendship, for many years to come. Thank you, Michael, from the depths of my heart.