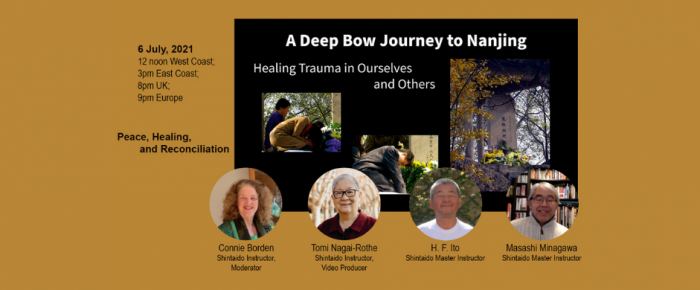 by Tomi Nagai-Rothe
"Wonderful information, wonderful video."
"I was deeply touched."
"Moving, beautiful presentation."
"So much power in the desire to heal – almost as much as the healing itself."
"Deeply moved . . . by the transforming power of Shintaido teachings and movements."
These are a few of the responses to A Deep Bow Journey to Nanjing presentation on July 6, 2021 attended by more than 77 people on Zoom of a joint partnership of Shintaido of America and Reimagine.
Connie Borden introduced herself as the moderator (and Shintaido instructor) and shared the purpose of the presentation: "Our hope is to show ways that body movements support healing and reconciliation from past traumas. We intend to show how body movement can help to prepare for the end of life as well as how to live well in this moment."
She then acknowledged that the land of the San Francisco Bay Area meeting hosts is occupied indigenous land of the Ohlone People – in eight distinct tribal groups.


Tomi Nagai-Rothe, Shintaido instructor and video co-producer, talked about wanting to bring this story of healing and repair to more people, through the video project. She mentioned the martial arts philosophy of living at the edge of life and death. She believes that healing body movement like Shintaido is a powerful tool for coming into alignment with our own deeper rhythms which, in turn, allows us to connect more deeply to others.
After the video showing, H.F. Ito, Master Shintaido Instructor, talked about his trip to Nanjing as an important part of addressing his negative cultural inheritance. He described the concept of our bodies as a mudra (Sanskrit: "gesture, seal or sign") or whole body antennae that allows us to receive energy from the universe as well as sending energy.
H.F. Ito also talked about sword movement – in the post-Samurai era – as a spiritual cleansing technique to clear away unneeded thoughts or energy.
Masashi Minagawa, Master Shintaido Instructor, spoke about "wordless transmission" through body movement (kata in Japanese). He recounted a Shintaido performance at the first anniversary of 9/11 at London's Royal Opera House during which he experienced sword movement becoming an act of spreading peace. The sword movement was transformed into his master HIroyuki Aoki's wish to spread flowers over the bombed out buildings of Tokyo after Aoki had lost so many family members and friends to the violence. Masashi Minagawa saw white petals falling from the ceiling of the Opera House, covering the audience.
Some reminders from our Master instructors regarding Shintaido healing movement:
Use healing movement practice in daily life for all types of situations
Avoid expecting a specific or immediate result
Be non-judgmental
Practice gratitude
If you are interested in going further, please join Master H.F. Ito and Master Masashi Minagawa for a virtual workshop August 22-28 – the 20th Anniversary of the Global Taimyo Peace Community.
Registration includes:
2 – 90 minute virtual classes with H.F. Ito (8/22 and 8/28)
Up to 7 weekday classes with regional instructors (optional)
Second showing of the video featuring Master H.F. Ito and Master Masashi Minagawa (subtitled in English, French and Japanese): A Deep Bow Journey to Nanjing
A facilitated conversation about the video and workshop theme (with French, Japanese and English subgroups)
Taimyo Kata instructional materials – demonstration video and written sequence
Cost: $100
Register here
Watch the recording of July 6, 2021 Deep Bow Journey on our YouTube channel.