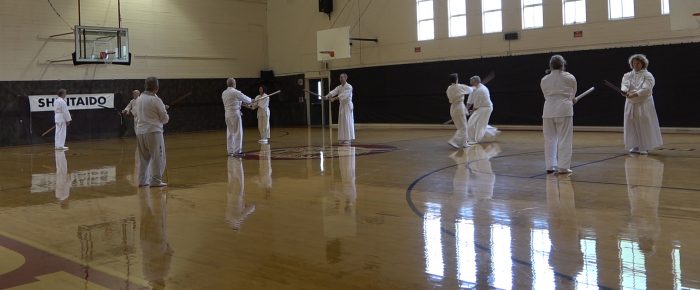 By Jim Sterling
After many hours of filming and editing we are happy to provide a series of 12 videos that show some of the movements practiced during Pacific Shintaido Kangeiko and the National Technical Committee's Advanced Workshop in January 2020. Many thanks to Mike Sheets who shot over 20 hours of videos and Sarah Baker who contributed her extensive editing expertise.
Here is a link to the videos on the SOA YouTube channel
The videos speak for themselves but briefly they include footage from Kangeiko showing various arrangements of Kyukajo and Tenshingoso. Also, there is an in-depth review of Taimyo and Flower walking among other familiar movements.
The Advanced Workshop concentrated on Jissen Kumitachi and features Chudan no Kata and Okuden no Kata. These are the only widely available videos of these two-high level kata and are important aspects of our Shintaido Kenjutsu program. Wonderful examples for review and study purposes. Don't miss the naked blade version of Diamond Eight Kata !
For a detailed description of the Kangeiko curriculum, please read Derk Richardson's beautifully written article from SOA's Body Dialogue archives.
"Rediscovering Kyukajo: Pacific Shintaido Kangeiko 2020"
Many thanks Ito Sensei and all the students who were willing to give their time and energy during the taping.
These are the first of many videos to be released on our new and improved SOA YouTube channel. Stay tuned for more in 2020 – 2021.