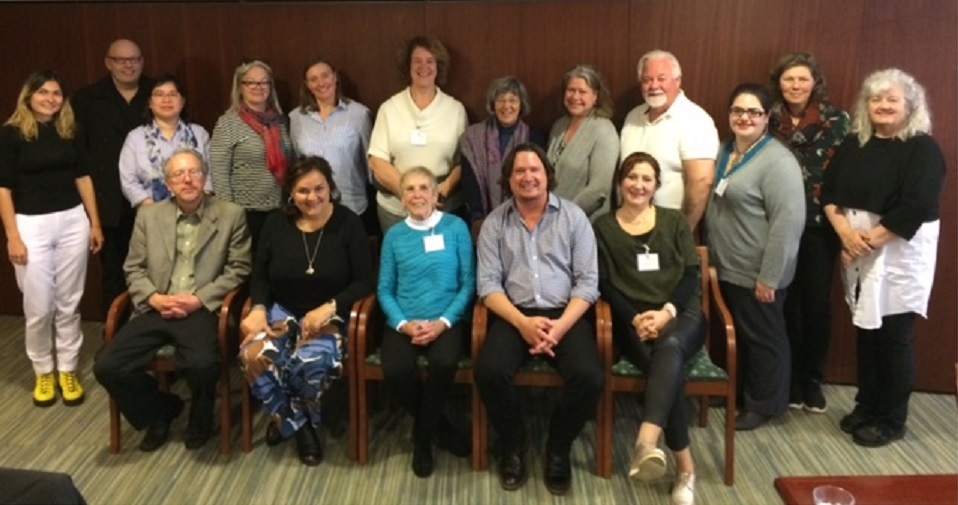 by

Connie Borden-Sheets

On April 13, 2019 in Bruges, Belgium, I presented Shintaido for a second year at the 2nd Global Conference on Death, Dying and the 21st Century. This year 22 people from 10 countries came together for 2 days as an interdisciplinary research community. We discussed the ways culture impacts the care for the dying, the overall experience of dying, and the ways the dead are remembered. Attendees came from the Netherlands, Australia, Portugal, Switzerland, Wales, the UK, Israel, Lebanon, the USA, and Canada. Our interdisciplinary group included scholars from philosophy, ethics, the law and literature; experts in the field of design for both products and processes; photography and videography; writers; and healthcare professionals including me as both a healthcare professional and student of Shintaido.

I presented Tenshingoso with overtone chanting, as part of an array of topics from personal reflection on the journey through and after death of a loved one to review of literature and poems that gave voice to the illness experience. During the 45-minute interactive demonstration, the participants used their voices and their bodies to explore the sounds of Ah, Oh and Um to express grief and facilitate mourning. Participants were first given the opportunity to stand facing inwards in a circle, and then with alternating groups they were invited to stand in the center of the group while these three movements were being done by the external circle.

Participants reported feeling soothed and relaxed. Many reported feeling the vibrations of sound within their bodies. All agreed the simplicity of the three repeated movements made it easier to learn and potentially use in the future. Many were eager to work with their colleagues and explore how patients might benefit from these movements and sounds.

Our group quickly formed an intimacy and connection through our mutual sharing and teaching over these two days. For almost everyone, these two days moving toward the unknown and mystery of death brought us closer together. I received feedback that the inclusion of body movement was welcome to both "get out of our heads and into our bodies" and to facilitate our interconnection as a group. I am making plans for next year's meeting already!

Here is my paper on my presentation:

Kotodama Applications for End of Life; a performance/audience participation presentation
Abstract: The use of sound combined with body movement crosses all cultures, languages and religions to provide a physical means for spiritual growth that for end-of-life purposes can provide a way to express grief and connection with the deceased. When the voice is added in Japanese martial arts such as Shintaido, the sound can be a spiritual basis for teaching. The Japanese word for sacred sound or word spirit is Kotodama. In the Japanese belief system, mystical powers dwell in words or names and ritual word usages can influence our environment. The Japanese martial arts body movement is Tenshingoso, with specific attention to the sounds "Ooo", "Uumm", and "Aaa". This presentation will bring the results many years of weekly practice and instruction for use in celebrations of life.

Presentation: Tenshingoso is called "The Cycle of Life" so that through body movement one can study life as measured from moments to a lifetime, while using the voice to increase the flow of energy. Tenshingoso is derived from esoteric Buddhism with each movement accompanied by a Sanskrit sound. For this presentation, the sounds of O-Um-Ah will be presented and practiced. This movement with voice will advance to transition from one sound to the next sound ultimately doing three sounds with one breath.

O – Reaching out into the universe to reach what is omnipresent
Push hands forward and up as far as possible with the palm facing forward, fingers pulled back so as to open the palm of the hand. The sound of "Oooo" is made throughout this movement and as the movement Um is started, the sound changes to "Uumm" to start the stage of Um.

Um – Bringing the universe, perhaps those who have gone before into one's center
The right-hand rests lightly inside your left hand. Eyes can be half closed or completely closed. Bring all your concentration into one single point where everything else disappears. Release all tension from the top of your head to your feet. Bring the hands back to rest lightly over your lower abdomen. The sound of "Uumm"" continues through this movement and begins to change to the sound "Aahh" to start the stage of Ah.

Ah – Opening Space – asking those who have died to reappear.
Opening your eyes, drop your arms down and backwards with shoulders relaxed, your fingers open and palms open, leading with the thumbs pointing backwards. Look toward the skies. Your chest will be open, head tilted backwards so that your chin and face is looking up. Your arms with palms open will be at your sides. Making the sound of "Aahh" and transitioning to the sound "Ooo".