Carole Brouillette wrote with the sad news that Anne-Marie Grandtner passed away on December 18, 2018.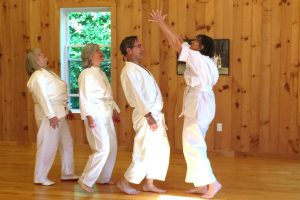 Anne-Marie lived in Montreal, Canada. She often attended Shintaido North East events.
At home in Montreal she taught Shintaido classes and in 2015 arranged for Shintaido to be included in a chorale performance in the Chapelle Notre-Dame du Sacre Coeur in Montreal.
You can see more photos of Anne-Marie from that 2015 event online.