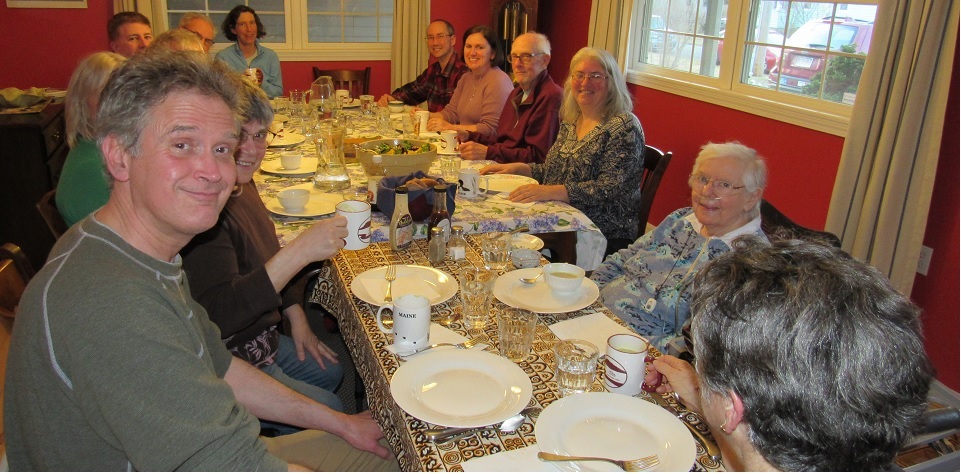 by
Nancy Billias
Springtime in New England means many things. For Shintaido Northeast (SNE) it has come to mean "Springeiko" – a gasshuku to welcome the return of warmer weather and outdoor practice. This year, like last year, we met in South Deerfield. However, unlike last year, this year we had to deal with the absence of our beloved Joe Zawielski. The loss of Joe, who was often SNE's Director of Instruction for gasshuku, and a mainstay of SNE, has left us facing some major shifts. We decided to have a meeting over the Saturday night potluck to think about new directions.
At lunchtime, three questions were proposed for our unconscious minds to ponder during the afternoon keiko. After dinner, we looked at our individual responses. The two fundamental themes that emerged are community and a holistic practice. But rather than interpreting these responses, they have been collated here. I invite you to think about how you would answer these questions for yourself.
What did Shintaido give you when you first encountered it, and what did you bring to it
What does Shintaido give you now – and what do you give to Shintaido?
What do you hope Shintaido can give you in the future – and what do you envision you could contribute to Shintaido?
What did Shintaido give you when you first encountered it?
A new universe to explore, and a willingness to do so. An opening for a new way to look at the world
Energy – and lots of it! Vitality!
Beginner's mind and fresh eyes
An excitement about life's journey and a new lens to look at it through.
Showed me the whole body-mind-spirit connection.
Strong legs and a wonderfully toned body. Sore thighs. A broken nose!
A completely new way to be with my body. I was able to feel (and be) strong, graceful, capable.
An opportunity to learn that my body was more than just flesh and blood and bones – that there was whole being who encompassed also memory, spirit, energy and will. This was news to me at the time.
A community of people. Community is fundamental to Shintaido. Fun, laughter. Welcome. A sense of belonging.
A place where it was important to express all of myself, and not have it be viewed as 'too much.'
An outlet for self-expression and extension of one's interest into a bigger realm.
Big nature: Ocean Beach, Tennessee Valley, Golden Gate Park…Hard practice on the beach in the cold and not-so-cold, but being one with the beach and cold and the others practicing.
A sense of community and a practice to develop and work on.
It challenged me to open my body and heart and spirit. Physical, mental and existential challenge. It gave me many, many opportunities to challenge myself.
Stress relief. Bright, shining world.
The thought of "Wow! This is pretty neat stuff."
It gave me a different way of connecting with my undergraduate students.
Shintaido gave me hope for extending a truncated life, being more expressive, feeling more deeply.
It gave me license to be weird, and made my body stronger.
It gave me a lot of challenges – for years I felt that I would never improve; I was just terrible at it. So it gave me difficulty, and that intrigued me, I think it kept me coming back.
What did I give, in the beginning?
Commitment and enthusiasm. Back then, I gave it my enthusiasm, going to as many classes as I could. My time, as an eager student.
A lot of energy, interest, and thought.
I gave an injection of foreign perspective to French Shintaido practitioners.
A level of participation both in and out of keiko.
Perseverance – it took a long time to "get" certain movements.
I gave Margaret Guay a student!
Not so long after starting, I volunteered to serve as SOA treasurer, SNE board member, etc.
What does Shintaido give you now?
It gives me an indomitable spirit. When I do the movement, even it is only ten-part meditation, I am reminded of the many instances when the body was weak but the spirit was willing. And there's also a sense of community that is, I think, a vital part of Shintaido.
A place to start over.
Rebirth, new beginning.
A different perspective and philosophy.
Energy!
A community of people. (Several peple said this in different ways.)
Connections that go back a very long way.
Knowledge to share in my own voice and in my own way (example: teaching at Senior Center)
The confidence and expertise that comes from doing something for more than 40 years.
A wholeness of spirit.
It still gives me community and a practice to work on. But Shintaido also helps me grow spiritually, and it provides a form for me to express my physical self with.
It gives me a community of people I have known and done something with for more than half my life, and friendship – or really, more like family.
When I practice with others, it give me energy and joy.
It gives me a depth of contact with myself, my body, my spirit that I can count on, and that I can find when I need it.
Now I know how to relax, and how to deepen.
Shintaido provides a form for me to play with physical expressions in nature. It also provides what has grown into a long-lived community of friends.
One can understand the value of Shintaido in Jungian terms – that it allows us to grasp our shadow and bring it forth in creative and constructive ways if the forms are allowed their full spiritual breadth, depth and energy. But it is still shadow and can overwhelm and even terrify people (I think this is really why people stop.) It can also put people into a frustrating tension if it is dampened by focus on linear hierarchy or mere from, since the spirit understands its bounded nature, senses the great sky. Of course this is easy and in some ways formulaic thinking in the part of someone who has lived in the more visceral tension of shadow-fear for a lifetime! That's my rant!
It continues to give me a way of thinking about my body as embodied spirit, which is helpful in my current situation.
It gives me connection. Ten, chi, jin. It gives me a remote connection to others, and a spiritual practice.
A door into Japanese culture that enlarges my understanding of their art, film and literature.
A chance to reconnect with other practitioners, some of whom are close (or closer than) family. It also reminds me of the physical person I used to be, and even though I'll never get back there. I am more aware than many people about what's going on in my body.
An embodiment and practice of a life philosophy.
A framework in which to continually question evaluate, and reconsider my choices in life, and a way to work through them with a very valued physical, mental and spiritual practice.
What do you give to Shintaido now?
Love.
I still volunteer on the SOA and SNE board.
I'm not currently practicing, but I'm on the SOA and SNE boards.
A desire to contribute to Shintaido's ongoing existence.
48 years' experience.
Some tribal knowledge.
Lots of sharing and work at the organizational level of the Shintaido community.
What do you hope Shintaido will give you in the future?
As I am aging, I trust it will continue to support me throughout my life journey. And I also see that the physical part is less, and the spiritual is more.
Community, continued community.
I hope Shintaido will continue to provide this community that gets together throughout the year on different levels.
I hope that it will help to keep me healthy physically and mentally.
An option to share knowledge and movement in my own way separate from the Shintaido hierarchy.
A changing practice that will sustain me even as I become less able to execute physically challenging movements.
I hope it continues into the future. I worry that it will become extinct.
I hope to get back to teaching and possibly giving Shintaido retreats and classes at other venues.
In the future I plan to continue practicing as best I can despite aging. I hope my practice and insight will deepen.
Vitality!
A legacy to pass on/lineage.
Continued enjoyment with sword!
In-home services for the elderly? I expect there will always be some kind of practice for me if I continue to stay in touch with Shintaido. But there will always be the core movements of Shintaido that have kept me well in spirit over many years. Simply doing tenshingoso in the morning or evening or maybe both helps me to maintain an attitude of gratefulness, humility and wonder.
What do you hope you can contribute to Shintaido in the future?
Presence.
I hope to share more through teaching.
Continued time and commitment to practice and share Shintaido with others.
I will continue to volunteer as best I can during a big transition in life.
What I give is my most sincere effort in keiko, and I try to bring what I've learned to other aspects of my life.
I'd like to contribute to planning special events, like Anne-Marie's memorial in Montreal, and special classes with James Cumming.

After we had reflected and written in silence for several minutes, people were asked to come up with two sets of ideas to share: one abstract, and one concrete. Perhaps you'd like to do the same? Here are the combined lists from SNE Springeiko 2019:

Concepts
Vitality!
Community
Branding
Tribal knowledge
Expression!
Integration of physical and spiritual self
Embodied spirituality
LOVE
Practice of opening body and heart
Evolution
Relationships
Health
Bring one new person each (1 + 1 = 2; would double our group)

Concrete (something we'd like to see happen within the next two years)
Let's collaborate with thriving organizations!
"Collaborative teaching"
Hold a longer gathering with multiple teachers
Bring keiko up to Bill Burtis!
Collaborative workshop on "mindful movement" with EMI (Judy Tso)
Have Margaret Guay teach a weekly class again!
Teach Shintaido at USJ again.
Anne-Marie Grandtner memorial in Montreal
Make a new video – to preserve knowledge
More active social media presence
Teaching at Senior Center(s)