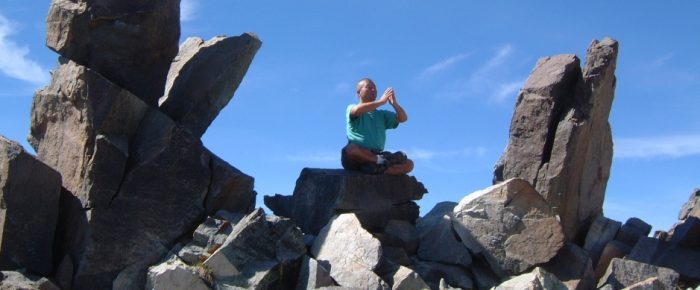 by
Connie Borden-Sheets
At our recent SOA board meeting, an attendee asked: "How do you recharge after teaching?" I became curious about what works for our Shintaido teachers to recharge? So, I ask for your comments and strategies and let's see what a community does to sustain its teachers.
My interest stems from being a nurse, a nurse practitioner, a palliative care consultant, a woman, a wife, a mother and a caregiver who has experienced times of professional burnout and is aware of the risk of burnout in all caring professionals. This question has often been asked of me in my role as palliative care consultant. When I explored this topic, answers included the capacity to build resilience. Resilience is often a characteristic attributed to those who continue with caregiving of various types– body work, fitness coaching, life coaching, teaching, healthcare professions, parenting, and being human.
What are some of the ways to build resilience and recharge? There are plenty of research studies, talk shows, and books on this subject. Categories include but are not limited to self-care, spiritual inspiration and meditation, networks of likeminded people, expectations and goal setting, and time management and planning vacations. Self-Care typically includes exercise, diet, and sleep. So, I wonder, for a person teaching body movement (Shintaido, Pilates, Fitness coaching and more) – what does exercise look like when this person is physically active as a teacher already? I also wonder, if a network of teachers is part of success, how does SOA become a learning community to support its teachers?
I look forward to reading your ideas and what you have learned from being a teacher (in all the ways we teach and are caregivers) to answer the question "How do you recharge after teaching?" Please post comments in response to this to this article so that all can read your replies. Thank you!