SNE Springeiko 2019
March 30, 2019 @ 9:00 am

-

March 31, 2019 @ 12:00 pm

EDT

Start time where you are: Your time zone couldn't be detected. Try reloading the page.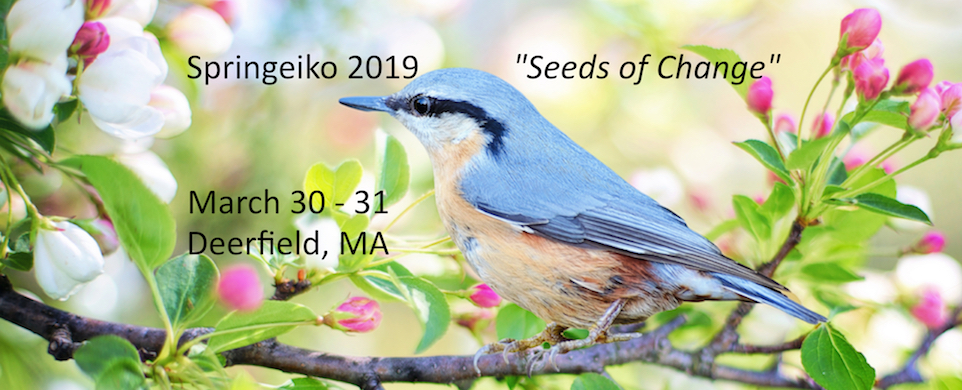 Seeds of Change
It has been a year of incredible change within our community, for our group and for many of us as individuals. Losses, gains, changes, transitions, passages, resiliency, transformation – what is getting ready to grow and where will it all lead?
Instruction
Under the guidance of Senior Instructor Bela Breslau, we will be receiving gorei from the Instructors of Shintaido NorthEast. There will be three keikos; two on Saturday and an optional keiko on Sunday morning.
Schedule & Locations
Saturday
Registration
9 - 9:45 am
Holy Family Parish Church
29 Sugarloaf St, South Deerfield
Keiko 1
10 – 12:30
Lunch
12:45 pm
Keiko 2
3 – 5:30 pm
Potluck Dinner
6:30 pm
Bela & Stephen's
60 Graves St, South Deerfield
Sunday
Keiko 3 (Optional)
9:30 – 12:00
South Deerfield Senior Center
67 North Main St, South Deerfield
What to Bring & Wear
Bring your bokutoh and bokken. If you don't have one, please let us know so we can arrange to have one for you. Wear comfortable cushioning indoor shoes as the hall floor is linoleum.
For the Potluck Dinner, Ann Sievers is the coordinator and will be in touch with you.
Fees & Registration
The cost for Saturday only is $95, which includes 2 keiko plus lunch. Sunday morning keiko is an additional $25. To register, please respond to this email, margaretguay@gmail.com, to confirm your space and allow for planning. Payment will be at the workshop during registration so please bring a check or cash.
Accommodations
Local hotels/Motels
Closest and cheapest: Red Roof Inn, S. Deerfield ~ $65-$75/night
Within 20 min:
Holiday Inn Express, Hadley ~ $185/night
Econolodge, Hadley ~ $110/night
plus others in Northampton/Amherst area
Airbnb: There are some places available online – individual rooms or the possibility of a whole house.
Some of us local people have a space or two for overnight guests. If you are interested, please let me know as soon as possible – margaretguay@gmail.com.
More Questions
Contact Margaret Guay, Gasshuku Manager
413-320-2982; margaretguay@gmail.com